If you are new to using penis extenders, then you may be a bit confused as to how they work. Here is a brief guide to get you started on making your dick bigger today!
1. Slide the base part over your penis.
2. Place your penis in the carrier and attach it using the preferred method just behind the glans (head). The ridge of the penis head, called the corona, should protrude so that it prevents the fastener from slipping off.
3. Pull your penis outwards and place the extender rods into the carrier.
Try different combinations of things in order to find which one works best for you. When attaching and using the extender your penis should be completely flaccid. If it is not, then when it does become totally limp it will slip out of the extender's retention system.
Additionally, the extender is useless on an erect penis so there is no point in using it in that situation. For those who are uncircumcised, you can try attaching an extender with your foreskin fully forward or pulled back – whichever way works best.
With standard extenders, try wrapping your penis with the foreskin fully forward using gauze or protection plaster. You should then be able to tighten a strap or noose over the wrap just behind the head of your penis. The mushroom shape of the glans is supposed to keep the strap from sliding off.
If slipping occurs, try pulling the foreskin back enough to get a strap or noose around your penis behind the head. Use padding or wrapping as needed. You can use just the noose without padding and it usually works well.
Depending on the system, the product should include at least one form of padding or protection. Placing something between you and the strap or noose will provide more comfort and help extend your wear time.
Try different combinations of padding and don't be afraid to place one over another. For example, SizeGenetics users should use the protection sheet first then place the foam pad over that.
If the 3m Comfort Plaster is included with your extender then be sure to use it. Apply it like a bandage and place it between your penis and the extender's strap or noose to eliminate chaffing or irritation.
Cheap yet effective padding can be had by using baby wipe material or gauze. Take either one of these materials and wrap it around the silicone noose for your extender to protect against pinching and reduce chaffing. Alternatively, try wrapping your penis with a couple layers of gauze or baby wipe material.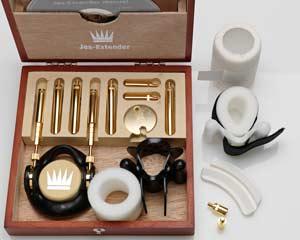 Baby wipes are soft and durable but you should let them dry out prior to using them in this way. One-half of a wipe is a good start; trim for maximum fit and comfort.
There should be no pain involved. If you follow these guidelines the next time to attach your penis extender, then you should be well on your way to a giant cock. Good luck!